On The Wolf Trail
Tracking wolves around Teton National Park.
NOTE: this article was originally published to JHNewsandGuide.com on March 13, 2021. It was written by Mike Koshmrl.
Now near the end of three winters tailing Jackson Hole wolves, Barker has logged her share of mystery clusters. They happen more than she'd like.
The steep, snow-covered pitch was a muddy, melting mess. Yet, a wolf trail unfurled in plain sight atop the ridge above it. Kristin Barker sized up the daunting destination.
"Sometimes I hate the wolves," she said.
Translation: Wolves have a knack for going places that sure aren't easy for humans to follow. And that was proven by the 5-day-old tracks left by a male wolf known as 63M, belonging to the Horsetail Pack. On an otherwise splendid spring Thursday morning the tracks snaked across the rugged terrain above Lower Slide Lake.
Barker, a University of California-Berkeley PhD ecology student, mulled how she would gain the ridge.
Option A: Ski around the long way to find to a gentler slope.
Option B: Ditch the skis and go straight up, taking the steep, slick slope head on.
Barker likes to go straight.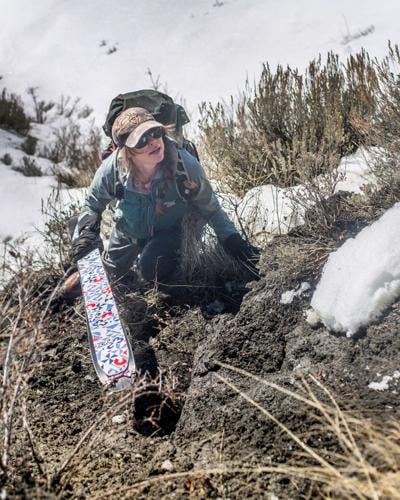 Barker finds her footing after taking a ride down a small mudslide while following wolf collar points in the Gros Ventre. The terrain often traveled by wolves has led Barker and her team into some of Jackson Hole's most rugged and remote country over the past three years of field research.
RYAN DORGAN / NEWS&GUIDE
Following that instinct she had hiked midway up the slope when the muddy ground underfoot gave way. She slid downhill toward a head-high cliff, regaining her grip just in time to not go for a ride. After charting another course up a sketchy, snowier portion of the slope, which fractured and slumped under her weight, Barker finally reached the top.
Moments later she'd skied to within the invisible 100-meter-wide confines of her targeted GPS "cluster" — a place where Wolf 63M's tracking collar had registered the same location at least twice in two days.
"This is an example of my least favorite type of cluster," Barker said. "There was snow, and snow melts and so there's bare ground in areas where you'd expect them to be bedding."
There were human hand-size wolf tracks in the area, but they didn't say much about what the canines were up to. There were no beds nor carcasses that could definitively hint at the cause of the wolves' pause.
"I'll do one more hopeless scoot around," Barker said.
Even faced with scant sign, she busted out her Samsung tablet to fill out a digital data sheet, enlisting Google Voice to help with transcription.
"Very likely bed site," Barker told her tablet. "Most bed areas are in melted out spots. But not enough snow left for definitive sign."
Now near the end of three winters tailing Jackson Hole wolves, Barker has logged her share of mystery clusters. They happen more than she'd like. But in the spirit of rigorous, objective scientific inquiry, all data is worth gathering for a research project that started three years ago with an exodus of elk.
It was the winter of 2017-18. At the time the Gros Ventre River area supported a higher density of wolves than anywhere else in Wyoming outside of Yellowstone National Park. The Gros Ventre elk, normally numbering in the thousands, all but disappeared.
That February the Wyoming Game and Fish Department surveyed just 86 wapiti in the broad basin east of Jackson Hole. The herds returned in the summer and fall, but some environmental factor — and many theorized wolves — was causing them to abandon the Gros Ventre's feedgrounds and usual natural winter range.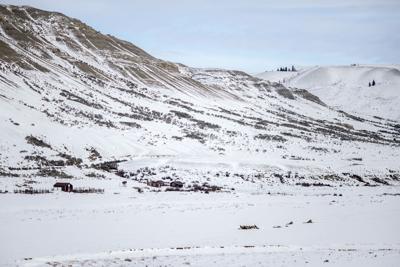 Just 10 elk remained on the Patrol Cabin Feedground in the Gros Ventre River valley in February 2018. The previous winter, the same feedground supported about 1,000 elk.
RYAN DORGAN / NEWS&GUIDE FILE
Wildlife managers like Game and Fish's Doug McWhirter and former Grand Teton National Park biologist Dave Gustine wanted to replace supposition with certainty about what was really happening. So they sought out a research partnership. Arthur Middleton, a UC-Berkeley professor with history in Wyoming, was interested and convinced a graduate student (Barker) to take on the project. Now the data she is slowly, arduously amassing is feeding into a model to discern how three large mammals influence one other.
"We're trying to get a feel for how wolves change their behavior and perceive human influences," Barker said. "Then we're adding in how elk do the same thing, and interact with the wolves."
The scientific inquiry is a complement to long-term research endeavors like the Yellowstone Wolf Project, which, since the mid-'90s reintroduction of wolves, has examined the effects of a largely protected population dwelling within a wilderness-like national park.
"Everyone takes the information and extrapolates it everywhere and says, 'This is how elk and wolves shape the landscape together,'" Barker said. "But that doesn't take into account animals in the real world, like animals in Jackson Hole, where people live and work and play."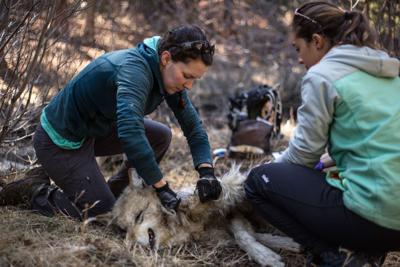 Kira Cassidy and Becca Thomas-Kuzilik examine the carcass of wolf 909F, the alpha female of Yellowstone's 8 Mile pack, while working for the Yellowstone Wolf Project in April 2017.
RYAN DORGAN / THE NEW YORK TIMES
In the Gros Ventre there are roads, hunting, elk that gather over hay, and other human influences.
"One of the main motivators behind this for me," she said, "is to better understand those predator-prey interactions in places where people are actually doing their thing."
Barker came aboard not perceiving herself as a "wolf girl," but that's the reputation she's gained in Jackson Hole from spending years tailing the iconic large canines to hundreds of haunts. Her project team, which also includes Becca Lyon, Hannah Booth and Zach Andres, is closing in on its thousandth GPS cluster. Game and Fish carnivore biologist Mike Boyce and wolf biologist Ken Mills also help with surveys when they're able.
"I didn't think at all that I was going to be studying wolves when I started on this project," Barker said. "The purpose of the study isn't wolves, per se. It's elk, but it would be silly to do this whole predation study and not actually try to analyze something specific to wolves while we're at it. We have this amazing wolf data."
Right now location data from wolf clusters is feeding in from 13 GPS-collared animals spread among five packs, which include the Horsetail, Lower Gros Ventre and Togwotee packs, along with a couple others that are newly formed and yet to be formally named. Wolves in Barker's study area have been dynamic and in flux. The year she started the population of canids up the Gros Ventre plummeted, a result of wolves warring and killing each other, dispersing, human poaching and Game and Fish raising wolf hunting quotas in direct response to the elk exodus.
Even as numbers have slowly rebounded, there's been significant strife and change in the wolf world, Mills pointed out. Major packs, like the Huckleberry, Pinnacle Peak and Lightning, have been broken up. Amalgamations of dispersers and remnant wolves have formed new family groups that have replaced them, settling into the same geographic niches.
Elk use of the landscape has changed, too. Barker's first field season, the winter after the wolf population plummeted, the Gros Ventre's elk count came in at 2,136 — a 25-fold increase over the year before. As wolf numbers stayed relatively low, elk have continued to stick around, though this year about 40% of the collared elk cows from the Gros Ventre bailed, heading instead downriver to the National Elk Refuge — the primary landing pad during exodus years. That change hints that perhaps the drainage's elk-wolf correlation isn't so clear.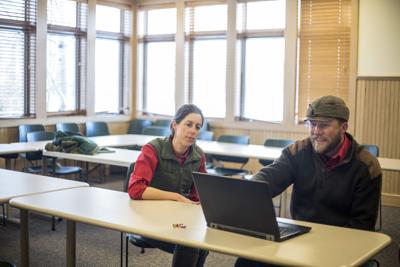 Wyoming Game and Fish Department biologists Aly Courtemanch and Ken Mills look at data in 2018, the first winter of a study of the interplay between wolves and elk.
RYAN DORGAN / NEWS&GUIDE FILE
"I suspect that, like most everything we deal with in nature, there's probably more of a complex answer," Game and Fish wildlife biologist Aly Courtemanch said. "I think that weather patterns are certainly having an influence, along with wolves."
"That's something we're still trying to understand through Kristin Barker's work," she said. "What is causing elk to shift winter ranges?"
The more data Barker unearths, the closer she can get to ironclad answers. A vague rule of thumb, she said, is that for every 15 wolf-killed carcasses surveyed at a cluster site, they can add one more "explainer" to their population model. But ahead of sitting down and poring over her final data set, she's leery of making any sweeping assertions about what's going on.
The cluster checks will go on, at least through the end of this winter. Before the sketchy, melting-out slope on the morning of March 4, Barker burrowed beneath the canopy of a Douglas fir to investigate a wolf bed at her first cluster of the day, site No. 1027-63M-0221. The sheltered spot, a short ski from the Gros Ventre Road, was characteristic of where a wolf would hunker down during bad weather. Besides the smooth, melted, oval impression of a snoozing wolf and some hair that is collected, Barker sees something else that's useful — a smudge of blood. It's not from a wound, but a hint that the next generation of Horsetail Pack pups might be a couple of months away.
While the GPS cluster she's investigating is from a collared male, she said, the blood "is likely a female from his pack."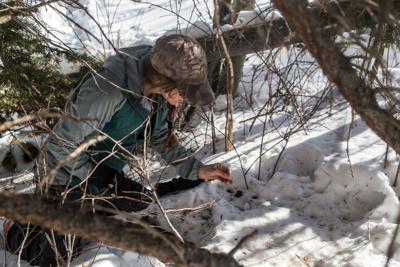 Barker examines fur found at a bed site to confirm it was used by wolves north of Lower Slide Lake. Signs of blood led her to assume that a female in the Horsetail pack was likely in heat.
RYAN DORGAN / NEWS&GUIDE
Five hours and three clusters later, Barker is much higher in the mountains and breaking for lunch after having seen plenty of tracks and beds but nothing that indicates what the Horsetail Pack has been eating. She takes a call about a broken-down ATV — used to check clusters — that's stranded somewhere on the National Elk Refuge, strategizing with law enforcement officer Bryan Yetter on how she'll get it out. Then she reflects on the job.
"This is a standard day," Barker said. "Skiing a lot and not finding what you're looking for, but finding useful data nonetheless. We did find that this pack is in heat, so that's good information."
The ski out is steep, and by mid-afternoon the uneven snowpack baking in the sun is like wet cement, grabbing edges and giving way unexpectedly. After repeated falls on skis, post-holing through snow proves a more efficient way out. Barker's advisor, Middleton, tagged along once back in 2019, gaining a firsthand appreciation of what it takes to tail a wolf through the backcountry.
"I'm still in physical therapy from the days that I spent in the field with Kristin," he said. "I'm only half joking. I have a shoulder injury from two winters ago that I got up the Gros Ventre with Kristin."
Mills has done his share of snowmobiling, skiing and hiking around the landscape in pursuit of what's left behind from when wolves hunt down a meal. In 2014 he even headed a predation survey up the Gros Ventre, homing in on GPS clusters for weeks at a time.
"I had to take a break for a bit, because I got tendonitis in my knee," Mills said. "It is very grueling to follow a wolf pack day in and day out. To even keep up with where wolves stop and spend a few hours is really difficult, let alone to be able to actually follow their travel path. It'd be near-on impossible for us."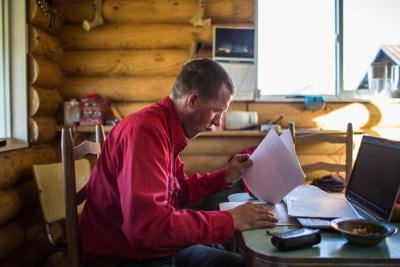 Ken Mills studies wolf collar data over breakfast during a July 2014 wolf predation survey up the Gros Ventre.
RYAN DORGAN / CASPER STAR-TRIBUNE
Based on GPS tracking collars that record a location every two hours, a Wyoming wolf moves at least 10 miles a day, Mills said. But that's just a point-to-point distance that discounts how the animals actually weave around the landscape and navigate the topography. Fifteen miles, maybe more, is more realistic. It's a wolf's ability to move that keeps it alive.
"Everybody thinks wolf teeth are what gets the job done, but wolves are fed by their feet," Mills said. "It's the amount of distance they cover, the number of prey they test. They're a species with low success rates compared to many other carnivores, and definitely compared to cats."
Before reaching the Gros Ventre Road, Barker happens to come upon an elk carcass in the thick, snowy, deadfall-strewn gut of a steep gulch. Both wolf prints and the more-rounded impressions of mountain lion tracks are imprinted near the remains. A glance at the mostly intact animal tells Barker canines weren't the culprit.
"If it was wolves, the stomach would be down here, the limbs would be up there," she explained. "This has more characteristics of something that laid down and died, or was cached by a cat."
She still wouldn't have logged it if it was a wolf kill. No tracked lobos had gathered in the gulch that she was aware of, and even if they had "clustered" it would sully her methodical, objective data set to cherry pick a carcass find. There are way more clusters than would ever be practical to get to, and those that are investigated are selected randomly by a computer.
"I would love to selectively look for things that look like kills," Barker said, "but that would completely ruin the scientific integrity of the study."
By the following afternoon Barker was headed to investigate another Horsetail Pack cluster — one that sure looked to her like a carcass. This time she was on the trail of a different wolf, 83M, which had visited the site repeatedly.
"There were multiple points, over several days, and the wolf left and returned three times," she said. "The points are a little more scattered out than they would be if it were a bed."
The distance to the site was just 1.5 miles from where she parked her Honda CRV outside of Kelly near the north end of the Elk Refuge. But as is often the case, a straight-line distance to a wolf cluster way up in the hills doesn't say much about the ease of getting there.
An hour into the ski she saw her first wolf tracks. Forty-five minutes later, she bootpacked up a steep, sun-cleaned slope and crossed into the invisible 100-meter-wide cluster. Barker was at 8,000 feet and overlooking the whole valley. A raven flew overhead and coyote tracks cut across the snow — all promising signs. But after making a few big circles on her skis, Barker found nothing more than a tuft or two of elk hair and a single shard of bone.
"There could be something dead around that's completely covered in snow," she said. "The hair and scavenger sign are just killing me."
There's hope, however, that the wolf congregation will be explained by an adjoining cluster, 600 feet downhill and off to the west. Barker beelined toward it, blazing ahead of her laggard writer and photographer companions. By the time I arrived, her backpack was on the ground, as is the bony remains of an eaten-up elk calf. Barker inspected a tree for broken branches that would suggest a fight for life and scratching away at the snow surface trying to piece together what unfolded at the site at 9 p.m. Feb. 24 — eight full days before.
Her gloved hand excavated a bloody depression where the young elk was taken down, and then another.
"I should have put my death gloves on, but I got too excited," Barker said. "So much blood. We don't often see this much blood."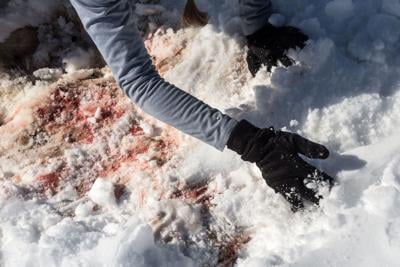 Barker scrubs snow from a site on Sheep Mountain where wolves killed an elk. A delay in investigating wolf clusters to avoid influencing their behavior often requires Barker and her team to deduce how the kill happened.
RYAN DORGAN / NEWS&GUIDE
An irony of the crew's demanding daily routines is that the researchers rarely see the specimens they're shadowing.
They don't move in on a geopoint until it's at least two days vacant, a buffer to ensure they're not disturbing the predators or prey and, in turn, influencing the data. Imaginations naturally run wild when mentally reconstructing dozens of interactions.
"I just would have loved to have seen this happen," Barker said.
Kneeling over the elk calf's busted rib cage, she speculated, "maybe its ribs broke as they were smashing it into the ground."
Though confident that the site represents a wolf kill, just to be sure she scored the animal's shriveling hide to look for hemorrhaging that would confirm trauma inflicted while the animal was alive. Bingo.
"We've got hemorrhaging on the rear flank," she said, "and on the neck."
An "inside-out sock situation" limb, where the leg bone is pulled through the hide, is another telltale sign of a wolf kill. The calf's contorted remains, again, checked this box.
Barker sawed off a 2-inch segment of leg bone, which encased a "somewhat gelatinous" marrow that suggested to her the first-year elk was in fair shape, at best. But that was just her subjective opinion, and laboratory testing of the marrow will tell a fuller story.
"After the season, we'll dry it out," she said. "We'll take the wet weight and the dry weight and that will tell us how much body fat it had when it died. You can kind of tell if it was healthy or not."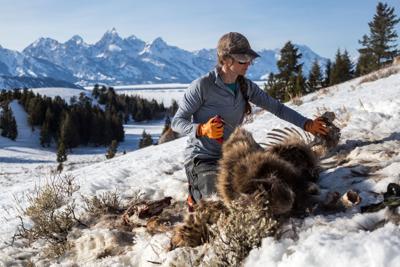 Kristin Barker, a University of California-Berkeley PhD ecology student, prepares to take a bone marrow sample from the femur of an elk calf carcass found March 5 on the western slope of Sheep Mountain near Kelly. The goal of Barker's research is to come to a better understanding of the influence that wolves, elk and humans have on the behaviors of one another.
RYAN DORGAN / NEWS&GUIDE
Ordinarily she'd take a tooth to age the animal, but this time it's not necessary — it's clearly a calf.
The crew will collect wolf scat, too, if it's around. No turds today, though. A sawed-off hoof will go into a freezer in case someday another researcher wants to run stable isotope analysis tests to figure out what the calf was eating and even where it lived.
To test for chronic wasting disease the team will take a retropharyngeal lymph node from the neck area, although it's rarely still there. Usually the nodes end up in wolf intestines, or, if they are left behind, they are picked up by birds — this one, like normal, was gone.
Barker jotted that the carcass was 100% used, noting there was no real soft meat remaining. She flung a glove in the air to select a random location and even digs a snow pit: There was 15 inches, and it was soft except for right at ground level. That data will feed into a snow model that Colorado State University researchers are developing for the study. The whole data-gathering process stretches for 45 minutes, capped by the Google-transcribed description of scene.
"My phone has learned hemorrhaging, and it just makes me so pleased," Barker said before logging her entry. "It never gets rumen, though."