Winter Crushes Wyoming Range Mule Deer Fawns
The usual suspects – hunting, weather, livestock, and development – are blamed for this very cold and wet season's toll on wildlife.

As usual, there is no thought about how so-called  'conservation' practices have degraded habitat and wild animal health, making wildlife less able to withstand cold and disease.
NOTE: this article was originally published to JHNewsandGuide.com. Story and photography by Billy Arnold.
The mule deer did not look much like a mule.
Nestled in the wind-drifted, sun-crusted snow deep in winter range near La Barge, the deer's ears were not perky, upright and pear shaped like a mule's — the deer's namesake.
Instead, they were flattened down below its skull. And the animal wasn't sleeping.
"That one doesn't look like it's going to be around much longer," said Gary Fralick.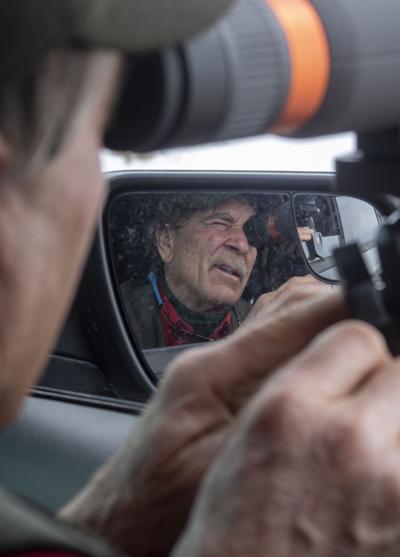 Gary Fralick, a Thayne-based Wyoming Game and Fish Department wildlife biologist, watches for mule deer in La Barge winter range Thursday afternoon. Fralick said he hadn't seen such an extreme winter for wildlife in his 30 years of studying the Wyoming Range mule deer herd.
BILLY ARNOLD / NEWS&GUIDE
Fralick is a Thayne-based wildlife biologist with the Wyoming Game and Fish Department. He's spent nearly 30 years studying Wyoming Range mule deer, which winter in two areas: one between La Barge and Big Piney, and another between Cokeville and Kemmerer. In the summer the roughly 30,000-animal herd migrates north to the Wyoming Range, with some animals migrating as far north as the Greys River drainage near Alpine.
But this year winter is walloping the deer and their neighbors: the Sublette pronghorn herd, which winters in the Upper Green River basin. A few hundred pronghorn from the Sublette herd venture north each year to summer in Grand Teton National Park. Both species are dying from starvation due to snow that's buried their favorite shrubs, a lack of wind that usually clears hillsides for foraging, and persistent below-zero temperatures that have caused the animals to use up the fat stores that get them through winter — with at least a month of snow cover left.
Both species also are dealing with years of drought, Fralick said, which has limited sagebrush and mountain mahogany's growth, leaving less foliage for deer and antelope to nibble on through the winter.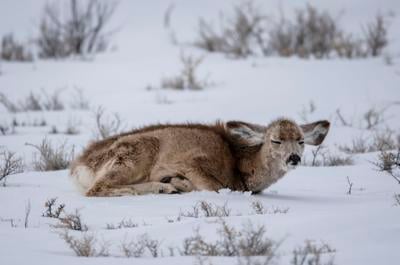 A dying mule deer curls up on La Barge winter range. Wildlife managers have said that the harsh winter will likely claim all collared fawns in the Wyoming Range mule deer herd and the vast majority of young animals that aren't actively studied.
BILLY ARNOLD / NEWS&GUIDE
But pronghorn are facing another scourge. A deadly outbreak of pneumonia caused by mycoplasma bovis, a bacteria responsible for pneumonia and other inflammatory illness in cattle, has killed at least 500 animals, primarily in the Sublette herd.
While 20% of adult Sublette pronghorn typically die every winter, about half of the 83 female antelope researchers have collared in the herd have died this year. Of 128 collared Wyoming Range does, 35% have died, compared to an average of 20%. About 90% of the herd's 92 collared mule deer fawns are dead.
"I hope we don't lose them all," said Kevin Monteith, a University of Wyoming ungulate researcher who specializes in animal metabolism and nutrition. "But we're basically going to be missing this entire cohort."
While reflective of trends in the larger population, that roughly 100-strong sample of collared fawns does not represent all fawns in the 30,000 animal herd. Some Wyoming Range fawns are expected to survive.
But the staggering losses had a constellation of wildlife professionals in the field Thursday examining how bad the winter has been for some of Wyoming's mule deer and pronghorn.
As Fralick surveyed mule deer winter range near La Barge, watching the young deer slowly succumb to starvation, a pronghorn buck was making its way along Highway 351 between Big Piney and Boulder, sniffing members of its herd that had died from starvation and the new respiratory illness. Nearby, a wildlife technician was doing a necropsy on a dead antelope, examining its fat-free innards and lungs scoured by disease.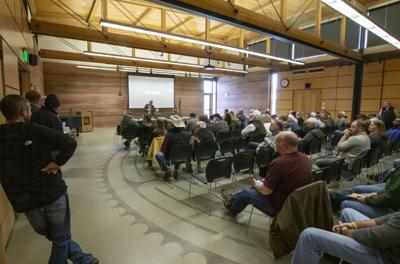 About 100 people, including state legislators, hunters and conservationists, packed in the Sublette County Library to hear Gov. Mark Gordon, Brian Nesvik, the director of the Wyoming Game and Fish Department, and Kevin Monteith, a University of Wyoming ungulate researcher, talk about the winter's impact on wildlife.
BILLY ARNOLD / NEWS&GUIDE
Meanwhile the state's top wildlife officials — and Gov. Mark Gordon — gathered at Sublette County Library, where a crowd of about 100 people packed into an auditorium to ask questions, lob accusations about Game and Fish not doing enough (which the department contested), and suggest solutions.
While hunters and outfitters called for feeding deer and antelope, and closing hunting seasons to protect mule deer, development watchdogs asked Gordon how he would mitigate sprawl in migration corridors. Conservationists, meanwhile, asked Gordon to formally protect more migration routes.
Paul Ulrich is the vice president of Jonah Energy, which drills south of Pinedale. Ulrich, however, spoke for himself and his family members, who have hunted in the La Barge area for decades, when he called for "suspending or significantly curtailing" hunting licenses for deer and antelope in the area.
"We've never seen anything quite like this," he said at the meeting. "For Wyoming's wildlife populations, if that means taking a year or two off, that's the right thing to do."
A man shouted "amen," and the crowd broke into applause.
Game and Fish is considering changes to this year's hunting seasons. The department is considering cutting 1,100 doe-fawn antelope tags and slashing pronghorn buck tags by half for the Sublette herd, said Brandon Scurlock, Pinedale's wildlife management coordinator. The department also is proposing allowing Wyoming Range bucks to be hunted only if their antlers have more than three points, indicating they're over 2 years old.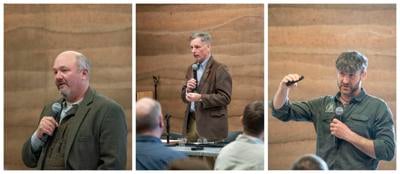 Wyoming Game and Fish Department Director Brian Nesvik (left), Gov. Mark Gordon (center) and University of Wyoming Professor Kevin Monteith (right) held a town hall in Pinedale last Thursday to talk about the winter's impacts on mule deer and antelope.
BILLY ARNOLD / NEWS&GUIDE
"If they made it through this winter, we don't want them harvested," Scurlock said.
But Game and Fish Director Brian Nesvik told the 100 or so people at the meeting that changing hunting limits alone wouldn't help herds rebound. He described tweaking hunting seasons as a "short- term" fix, particularly for Wyoming Range mule deer, which have struggled to rebound from severe winters for decades. In that population Game and Fish doesn't allow anyone but kids to hunt does, the herd's reproductive muscle.
Youth hunters only kill about 70 does annually.
"In the long term, hunting seasons aren't the answer," Nesvik said. "We're killing hardly any female deer, and bucks don't have fawns. It's all about, at the end of the day, how do we make females be productive?"
The answer, Nesvik said, is improving animals' habitat, maintaining their migration corridors, and allowing more predators to be hunted. Gov. Mark Gordon said that delisting grizzly bears could help achieve that goal, though the highest concentration of grizzlies is north of where the balance of both herds summer.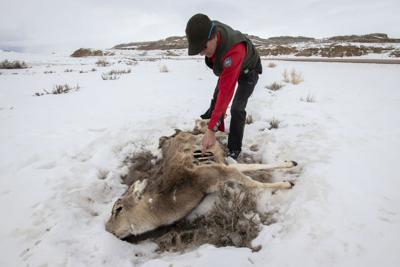 Gary Fralick, a Thayne-based Game and Fish wildlife biologist who's spent roughly 30 years studying the Wyoming Range mule deer herd, investigates a carcass on the La Barge winter range. The sharp angles that the bones made against the remains of the deer's flesh indicated that it had died from starvation.
BILLY ARNOLD / NEWS&GUIDE
But wildlife officials said this winter has been more extreme, particularly because of how cold it has been.
In Pinedale typically 39 days each winter record below zero temps. This year there were 62 subzero days, Nesvik said.
That, Fralick said, significantly ups the amount of energy animals need to expend to perform basic bodily functions, like metabolizing food, maintaining body temperature and keeping internal organs running.
It also consumes body fat.
Fat, Monteith said, is the most important factor governing how animals fare over harsh winters. If they're boasting 20% body fat when snow starts falling, Monteith said the weather "almost doesn't matter." Animals tend to survive. But if they start winter with lower fat reserves, pronghorn and mule deer tend to die.
In the winter of 2016-17 mule deer started the winter without a lot of body fat, about 8%, Monteith said.
The winter weather wiped them out, claiming about 86% of fawns in the Wyoming Range herd.
This winter Wyoming Range mule deer started the winter in a stronger position, about 12% body fat. By mid-March the animals' fat stores had fallen precipitously to about 4%. That, however, is better than March 2017, when fat stores for the northern and southern Wyoming Range mule deer were hovering around 2%.
Monteith said the die-off after the 2017 winter is actually part of why mule deer are faring so well now.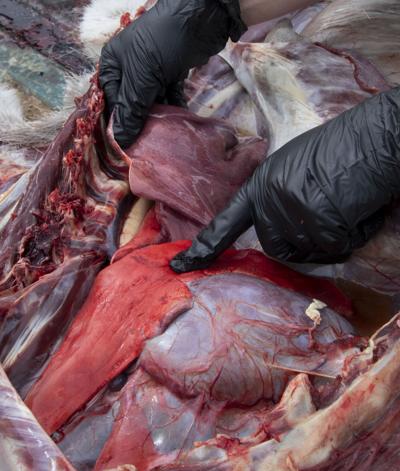 Alyssa Meier, a wildlife technician for the Wyoming Game and Fish Department's Pinedale office, points to an antelope lung that was devastated by respiratory illness. The bright red tissue Meier is pointing to with her left hand is the lung. The organ Meier's holding with her right hand shows the usual color of an antelope's lung.
BILLY ARNOLD / NEWS&GUIDE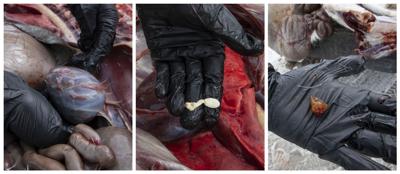 The antelope's kidney (left) and samples of its fat (center) and bone marrow (right). Meier said pronghorn's kidneys are usually covered in thick white fat, like that shown at center. The fact that it's bone marrow was also yellow and gelatinous indicated that it was starving, even though it had been eating.
BILLY ARNOLD / NEWS&GUIDE
"Since we had the crash in the population that occurred during the '16-'17 winter, we have much fewer mouths on the landscape," Monteith said. "We've seen these incredible recoveries in body fat. In fact, we had never seen animals that fat until after the '16-'17 winter."
Had the Wyoming Range herd entered this winter with lower fat levels, Monteith thinks mortality would be significantly higher: about 50%, compared to the 35% documented so far.
To fatten up, animals need to be able to access summer ranges — and viable winter ranges.
That has state wildlife officials focused on migration. The Wyoming Wildlife and Natural Resources Trust has invested over $20 million in Sublette County to support Monteith's research, build underpasses and other highway crossings, and improve habitat in the Wyoming Range and along the Wind River Front.
The state also is working to secure conservation easements and use prescribed fire to improve habitat.
Matt Kauffman, lead scientist with the Wyoming Migration Initiative, said that while Wyoming Range deer are struggling, allowing animals to move across the land has helped keep fat levels up elsewhere.
In the Sublette mule deer herd, which Kaufmann studies, some deer that typically winter near Boulder left the area because there was too much snow, and migrated into the arid Red Desert. But other animals that complete a 150-mile migration from Hoback to the Red Desert, the longest-documented mule deer migration in the world, have been able to weather the winter well too. Their fat levels are about average, Kauffman said.
"They were up in that high country in the Hoback on a great summer range during a great summer growing season last year," he said. "And they brought that fat with them and it buffered them against this big winter."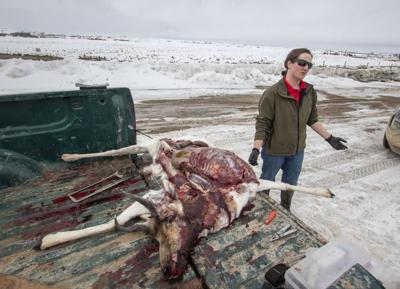 Alyssa Meier, a Pinedale wildlife technician with the Wyoming Game and Fish Department, takes a break from necropsying a dead antelope to explain what she was doing. The animal showed symptoms of respiratory disease and starvation.
BILLY ARNOLD / NEWS&GUIDE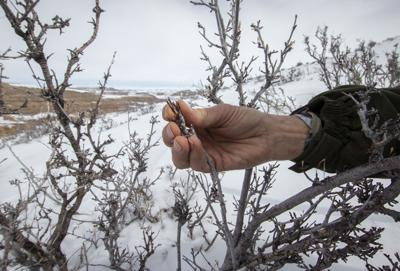 Fralick shows a stem of mountain mahogany that had been picked clean by animals foraging on mule deer's La Barge winter ranges. Had drought not limited sagebrush and mahogany growth, Fralick said "some of these deer might have been able to pull through the winter."
BILLY ARNOLD / NEWS&GUIDE
That was possible because the deer were able to move around freely.
Maintaining that sort of movement concerns people like Linda Baker, director of the Upper Green River Alliance, and Dan Bailey, a Bondurant resident watchdogging development in his community.
At the meeting, Baker asked Gordon to officially recognize a migration corridor that Sublette pronghorn use to travel from the Upper Green River Basin to Grand Teton National Park.
"Our pronghorn cannot wait another minute," Baker said. "Please do it now."
The process has been delayed since ranchers, energy executives and sheepherders asked the state to pause designating migration corridors. In response, Gordon developed an executive order for designating and protecting migrations on public lands.
Bailey, meanwhile, asked Gordon to give Game and Fish more backing to protect migration on private land.
"The upscaling, upzoning of this property is going to have an impact on wildlife," Bailey said.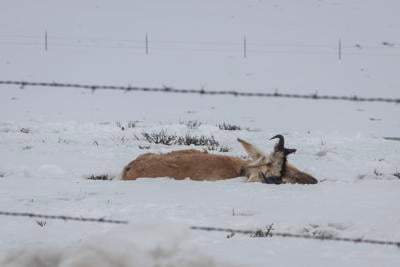 A pronghorn buck lies dead along Highway 351 southwest of Pinedale.
BILLY ARNOLD / NEWS&GUIDE
Gordon, in response, admitted that the migration designation process had gotten "backed up" but did not commit to moving the designation forward. He said that funding for migration protection comes from the state's "mineral resources" and that it was critical to bring private property owners to the table.
Gordon argued that conservation easements are the best "tool we have right now" to safeguard against runaway development in migration corridors. But Bailey argued easements wouldn't do much given development pressure from Jackson and Teton County, particularly if land changes hands without an easement.
"A conservation easement's not going to slow down the guy that wants to make a lot of money," Bailey said.
"Fair point," Gordon responded.
Kauffman, for his part, said it's critical to figure out what sort of development animals can handle. Roads, fences, subdivisions, solar, wind, oil and gas all make migration more difficult. He thinks more work needs to be done to determine how much of that development animals can take before losing the benefit of migration.
But, given time and resource constraints, he's most focused on one type of development: subdivisions.
"That type of development is permanent," Kauffman said. "Once it starts, it only just gets more developed."
Looking to the hunting season ahead, Nesvik said hunting seasons for Sublette pronghorn and Wyoming Range deer will be fluid until the Wyoming Game and Fish Commission meets to approve them in April.
Even after the meeting, things could change in order to set a "science-based" hunting season, Nesvik said.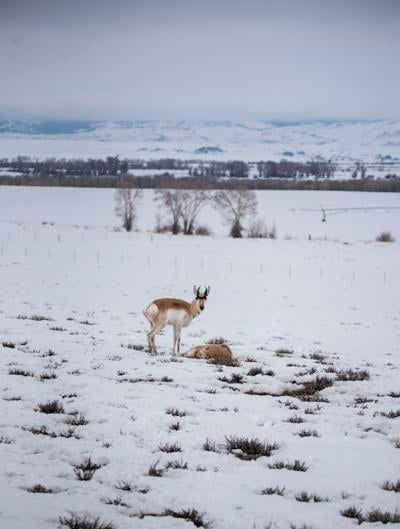 The pronghorn making its way along Highway 351, sniffing its dead herd mates, takes a break to look at the photographer. Unlike most antelope, which run when they see a human, the buck didn't move when the photographer got out of the car, a possible sign of disease or starvation.
BILLY ARNOLD / NEWS&GUIDE
"We have the ability to make emergency changes," he said.
The stark numbers presented at the meeting also will likely not be the end of the carnage south of Jackson Hole. While Sublette pronghorn dying earlier this winter near Pinedale had symptoms of pneumonia but not starvation, that's beginning to change. Now, Scurlock said, they're dying of both starvation and disease.
Game and Fish has stopped carting away the dead pronghorn.
"There's so many carcasses out there we couldn't do any more," Scurlock said.
Biologists like Fralick, meanwhile, are waiting to count deer and pronghorn populations from the air. In particular, Fralick is looking to understand how the ratio of fawns to older deer has changed over winter. That will give him a better idea of how many animals have died, and how they'll rebound in the coming years.
But with so much snow on the ground, even that survey is being delayed.
Officials want a more accurate count of the season's mortality.
"There's so much dying left in front of us," Fralick said.
This article has been updated to clarify that youth hunters only kill about 70 Wyoming Range mule deer does annually. More tags may be issued. — Eds.
—
For more posts like this, in your inbox weekly – sign up for the Restoring Diversity Newsletter