Government Spends $2.6m to Reduce Fire Risk on Caribou-Targhee, Private Lands
"Simple, common sense steps to mitigate fire hazard in our public forests are subject to interminable delays and challenges. Practices like those described below are needed on millions and millions of acres across the West.
NOTE: this article was originally published to JHNewsandGuide.com. It was written by Billy Arnold.
Federal land managers and nonprofits plan to spend $2.6 million to reduce wildfire risk on national forest and private property in Teton Valley, Idaho, in the next three years.
The money from the U.S. Department of Agriculture's Joint Chiefs' Landscape Restoration Partnership builds on work that began after the 2016 Tie Fire. The roughly 1,000-acre wildfire in Teton County, Idaho, threatened the highway over Pine Creek Pass, private homes and a regional powerline that supplies power to Jackson.
While local, state and federal crews have been thinning vegetation in forests in eastern Idaho for years to reduce the risk of fires like the Tie Fire, the money will speed up that work and boost efforts on private land.
"It's going to happen a lot faster because of that influx of money," said Jay Pence, district ranger for the Caribou-Targhee National Forest's Teton Basin.
Of the $2.6 million, about $1.1 million will go to the Natural Resources Conservation Service to reduce wildfire risk on private properties of 5 acres or more, with the goal of treating a total of 900 acres over three years.
In addition, an eastern Idaho nonprofit, High Country Resource Conservation and Development, received $700,000 to provide landowners with technical assistance such as fuel treatment prescriptions, timber marking and help applying for funding.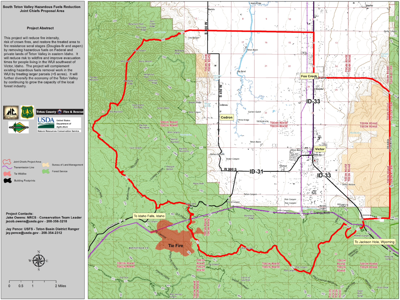 The U.S. Department of Agriculture has put $2.6 million towards a fuel hazard reduction project in Teton Valley, Idaho that will cover private and public land.
CARIBOU-TARGHEE NATIONAL FOREST
At the same time, the Caribou-Targhee will have about $900,000 to spend on thinning fuels on the boundary between the national forest and private land where prescribed burns are planned; hand-thin vegetation around the Mike Harris Campground and Southern Valley Trails system; and thin other vegetation to aid prescribed burns.
Since the 2016 Tie Fire, which cost about $4.2 million to suppress, the Caribou-Targhee, High Country, Teton County Fire and Rescue and the Idaho Department of Lands have been thinning fuels throughout Teton Valley, Idaho. The Idaho Department of Lands has spent $535,000 on the effort, aimed primarily at small, private lots. So far, 187 acres of private land have been treated, with another 30 set to be thinned this spring.
—
For more posts like this, in your inbox weekly – sign up for the Restoring Diversity Newsletter